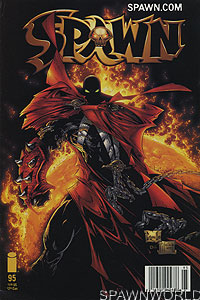 Image: Trent

- Book:
Spawn
- Issue:
95
- Date:
May 2000
- Writer(s):

- Brian Holguin
- Todd McFarlane
(Plot, Story)
(Plot)

- Artist(s):

- Greg Capullo
- Danny Miki
- Todd McFarlane
- Tom Orzechowski
- Dan Kemp
- Brian Haberlin
- John Gallagher
(Pencils)
(Inks)
(Cover Inks)
(Letters)
(Color)
(Color)
(Art Design)

- Notes:
- This is the newsstand edition. It is printed on newsprint paper and has a upc "barcode" on the front cover.
- 1st appearance of Abbadon
- 1st appearance of Zabraxas
- 1st appearance of Urizen

- Cracks in the Foundation (Urizen storyline part 1 of 6)

Two beings named Zabraxas and Abbadon return to Earth after being absent since the 14th century. They set about to finish the work begun by The Group, before it was halted by Spawn.

Meanwhile, Wanda is at a loss to explain her mysterious pregnancy to Terry. They have not been intimate with one another in months.