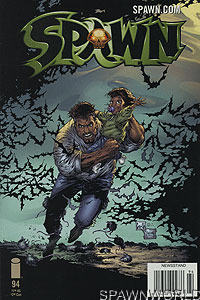 Image: Trent

- Book:
Spawn
- Issue:
94
- Date:
April 2000
- Writer(s):

- Brian Holguin
- Todd McFarlane
(Plot, Story)
(Plot)

- Artist(s):

- Greg Capullo
- Danny Miki
- Todd McFarlane
- Tom Orzechowski
- Dan Kemp
- Brian Haberlin
- John Gallagher
- Cyan McFarlane
- Kate McFarlane
(Pencils)
(Inks)
(Cover Inks)
(Letters)
(Color)
(Color)
(Art Design)
(Child's Art)
(Child's Art)

- Notes:
- This is the newsstand edition. It is printed on newsprint paper and has a upc "barcode" on the front cover.
Wanda finds out she is pregnant

- The Children's Hour

Little Cyan Fitzgerald is tormented by nightmares. Worried, her mother takes her to visit with a child therapist, but it does little to ease her anxiety.

At night, Wanda is visited by an unknown intruder that creeps through the shadows. Weeks later, much to her shock and dismay, she discovers she is pregnant.