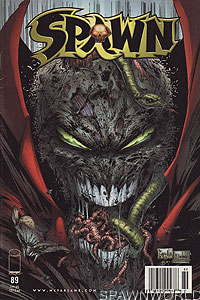 Image: Trent

- Book:
Spawn
- Issue:
89
- Date:
November 1999
- Writer(s):

- Brian Holguin
- Todd McFarlane
(Plot, Story)
(Plot)

- Artist(s):

- Greg Capullo
- Danny Miki
- Lee Matsunami
- Todd McFarlane
- Tom Orzechowski
- Dan Kemp
- Brian Haberlin
- John Gallagher
- Boyd Williams
(Pencils)
(Inks)
(Inks)
(Cover Inks)
(Letters)
(Color)
(Color)
(Art Design)
(Art Design)

- Notes:
- This is the newsstand edition. It is printed on newsprint paper and has a upc "barcode" on the front cover.
- Spawn encounters Mammon for the first time
- Spawn scars Mammon's face

- The Devil You Know

Spawn has annointed himself man's conscience. He lurks in the shadows and, when men fail to heed their own consciences, Spawn steps in to fill the void.

When Mammon tracks Spawn down and begins to threaten him, Spawn quickly turns the tables and begins to threaten Mammon. Meanwhile, Angela arrives on Earth and begins tracking down Spawn herself.