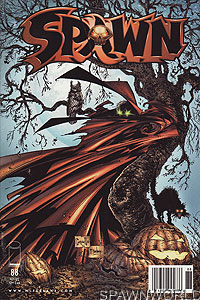 Image: Trent

- Book:
Spawn
- Issue:
88
- Date:
October 1999
- Writer(s):

- Brian Holguin
- Todd McFarlane
(Plot, Story)
(Plot)

- Artist(s):

- Greg Capullo
- Danny Miki
- Todd McFarlane
- Tom Orzechowski
- Dan Kemp
- Brian Haberlin
- Dave Kemp
- John Gallagher
- Boyd Williams
(Pencils)
(Inks)
(Cover Inks)
(Letters)
(Color)
(Color)
(Color)
(Art Design)
(Art Design)

- Notes:
- This is the newsstand edition. It is printed on newsprint paper and has a upc "barcode" on the front cover.


- Seasons of Change

Spawn has fallen off the radar and has been missing for over 3 months. He appears in seemingly random cities, does as he wishes, then disappears - much to the dismay of both Heaven and Hell. To discuss the matter, they schedule a meeting between themselves and Cog.

Meanwhile, Spawn witnesses a little girl being abused and decides to deliver justice to her stepfather.