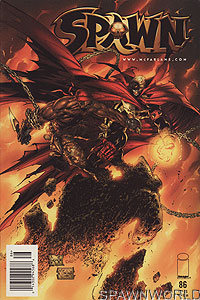 Image: Trent

- Book:
Spawn
- Issue:
86
- Date:
August 1999
- Writer(s):

- Brian Holguin
- Todd McFarlane
(Plot, Story)
(Plot)

- Artist(s):

- Greg Capullo
- Danny Miki
- Todd McFarlane
- Tom Orzechowski
- Dan Kemp
- Brian Haberlin
- John Gallagher
- Boyd Williams
(Pencils)
(Inks)
(Cover Inks)
(Letters)
(Color)
(Color)
(Art Design)
(Art Design)

- Notes:
- This is the newsstand edition. It is printed on newsprint paper and has a upc "barcode" on the front cover.
Spawn "quits"

- Abdication

Sitting on his throne, Spawn experiences another vision. Al Simmons comes to the alleys to confront Spawn, and together, they visit Simmons' grave. Al argues that he is the true Al Simmons and not Spawn. Enraged, Spawn pummels him to near death before realizing what he is doing. In the end, he puts Al out of his misery - symbolically destroying what remained of Al simmons.

Back in the reality of the alleys, Spawn orders everone out. When Cog asks what he is up to, Spawn simply replies: "I quit."