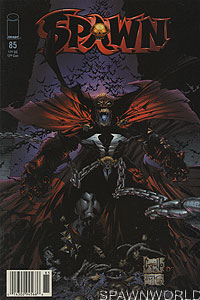 Image: Trent

- Book:
Spawn
- Issue:
85
- Date:
July 1999
- Writer(s):

- Todd McFarlane
- Brian Holguin
(Plot)
(Plot, Story)

- Artist(s):

- Greg Capullo
- Danny Miki
- Tom Orzechowski
- Dan Kemp
- Brian Haberlin
- John Gallagher
- Boyd Williams
(Pencils)
(Inks)
(Letters)
(Color)
(Color)
(Art Design)
(Art Design)

- Notes:
- This is the newsstand edition. It is printed on newsprint paper and has a upc "barcode" on the front cover.


- Endgame (Kincaid storyline part 9 of 9)

With their families safely sent away, Sam, Twitch, and Spawn initiate their confrontation with Billy Kincaid. Unfortunately, Billy's spirit is inside an innocent NYPD officer's body, leaving few options for his opponents.