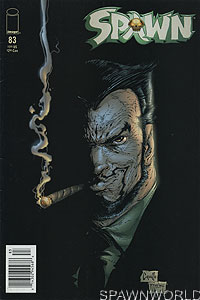 Image: Trent

- Book:
Spawn
- Issue:
83
- Date:
May 1999
- Writer(s):

- Todd McFarlane
- Brian Holguin
(Plot)
(Plot, Story)

- Artist(s):

- Greg Capullo
- Danny Miki
- Todd McFarlane
- Tom Orzechowski
- Dan Kemp
- Brian Haberlin
- Dave Kemp
- John Gallagher
- Boyd Williams
(Pencils)
(Inks)
(Cover Inks)
(Letters)
(Color)
(Color)
(Color)
(Art Design)
(Art Design)

- Notes:
- This is the newsstand edition. It is printed on newsprint paper and has a upc "barcode" on the front cover.


- The Conqueror (Kincaid storyline part 7 of 9)

Jason Wynn, under extreme pressure due to his collapsing power structure and his recent reassignment, hallucinates and goes on a rampage. In his mind, he has become his idol - Genghis Khan, and he begins his rampage. In reality, he visits a small diner and kills everyone inside.