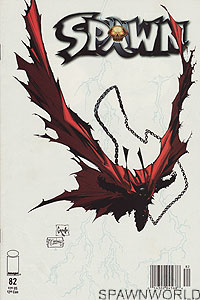 Image: Trent

- Book:
Spawn
- Issue:
82
- Date:
April 1999
- Writer(s):

- Todd McFarlane
- Brian Holguin
(Plot)
(Plot, Story)

- Artist(s):

- Greg Capullo
- Danny Miki
- Todd McFarlane
- Tom Orzechowski
- Dan Kemp
- Brian Haberlin
- John Gallagher
- Boyd Williams
(Pencils)
(Inks)
(Cover Inks)
(Letters)
(Color)
(Color)
(Art Design)
(Art Design)

- Notes:
- This is the newsstand edition. It is printed on newsprint paper and has a upc "barcode" on the front cover.


- Devil Inside Part II (Kincaid storyline part 6 of 9)

Spawn learns that Billy Kincaid is back and has been gathering souls for Hell. Kincaid makes it known that he knows all about Spawn now and intends to go after his loved ones - and there's nothing Spawn can do about it.