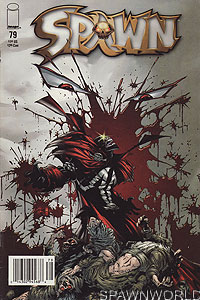 Image: Trent

- Book:
Spawn
- Issue:
79
- Date:
January 1999
- Writer(s):

- Todd McFarlane
- Brian Holguin

- Artist(s):

- Greg Capullo
- Danny Miki
- Tom Orzechowski
- Brian Haberlin
- Dan Kemp
- John Gallagher
- Boyd Williams
(Pencils)
(Inks)
(Letters)
(Color)
(Color)
(Art Design)
(Art Design)

- Notes:
- This is the newsstand edition. It is printed on newsprint paper and has a upc "barcode" on the front cover.


- Exterminator (Kincaid storyline part 3 of 9)

News of the homeless murders gets out to the public and the media dubs the unknown killer "The Exterminator." So far there have been five victims, one of which was a 14 year old girl. As both Sam and Spawn continue their investigations, Bobby gets hassled by the police for his involvement.