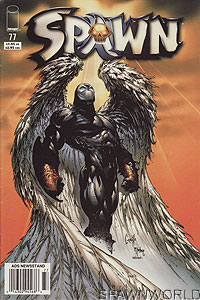 Image: Trent

- Book:
Spawn
- Issue:
77
- Date:
October 1998
- Writer(s):

- Todd McFarlane
- Brian Holguin

- Artist(s):

- Dwayne Turner
- Greg Capullo
- Danny Miki
- Todd McFarlane
- Tom Orzechowski
- Brian Haberlin
- Dan Kemp
- John Gallagher
- Boyd Williams
(Interior Pencils)
(Cover Pencils)
(Inks)
(Cover Inks)
(Letters)
(Color)
(Color)
(Art Design)
(Art Design)

- Notes:
- This is the newsstand edition. It is printed on newsprint paper and has a upc "barcode" on the front cover.
- 1st appearance of Sarah Frost

- Relics (Kincaid storyline part 1 of 9)

Spawn confronts Cog for answers about himself and being a hellspawn. Cog relents and shows Spawn some of the relics and information he has gathered over hundreds of lifetimes.

Elsewhere, Bobby is forced to deal with the loss of his dear friend Bootsy. Sam and Twitch go into Rat City once again to find Spawn, and like usual they find something else unexpected.