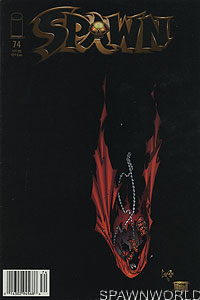 Image: Trent

- Book:
Spawn
- Issue:
74
- Date:
July 1998
- Writer(s):

- Todd McFarlane
- Brian Holguin

- Artist(s):

- Greg Capullo
- Danny Miki
- Todd McFarlane
- Tom Orzechowski
- Brian Haberlin
- Dan Kemp
- Brent Ashe
(Pencils)
(Inks)
(Cover Inks)
(Letters)
(Color)
(Color)
(Art Design)

- Notes:
- This is the newsstand edition. It is printed on newsprint paper and has a upc "barcode" on the front cover.


- The Void (Heap/Greenworld storyline part 2 of 3)

While Sam and Twitch ponder the life of Al Simmons, Spawn fights for his current existence in a battle with the Heap. When he is engulfed by the beast, Spawn enters the domain of a power that is independent of the war between Heaven and Hell.