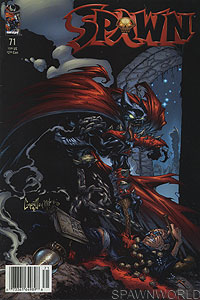 Image: Trent

- Book:
Spawn
- Issue:
71
- Date:
April 1998
- Writer(s):

- Todd McFarlane
- Brian Holguin

- Artist(s):

- Greg Capullo
- Danny Miki
- Todd McFarlane
- Tom Orzechowski
- Brian Haberlin
- Dan Kemp
- Brent Ashe
(Pencils)
(Inks)
(Inks)
(Letters)
(Color)
(Color)
(Art Design)

- Notes:
- This is the newsstand edition. It is printed on newsprint paper and has a upc "barcode" on the front cover.
- 1st appearance of Wolfram
- 1st issue co-written by Brian Holguin

- Apparitions (Wolfram storyline part 1 of 2)

Pleased with himself over the death of the Freak, Spawn once again receives a lecture from Cog. Likewise, when Terry returns home late from work, he receives a lecture from Wanda about being a part of teh family.

Later, Spawn is attacked by a minion of Heaven and saved by an unlikely friend.