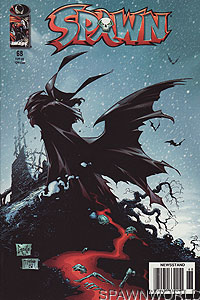 Image: Trent

- Book:
Spawn
- Issue:
68
- Date:
January 1998
- Writer(s):
- Todd McFarlane
- Artist(s):

- Greg Capullo
- Todd McFarlane
- Chance Wolf
- Tom Orzechowski
- Brian Haberlin
- Dan Kemp
- Brent Ashe
(Pencils)
(Inks)
(Inks)
(Letters)
(Color)
(Color)
(Art Design)

- Notes:
- This is the newsstand edition. It is printed on newsprint paper and has a upc "barcode" on the front cover.


- Intersection (Dead Zone storyline part 2 of 4)

Sam and Twitch are allowed to cooperate at a murder scene - the murder of their client's husband. Apparently Mrs. Byrd became obsessed with watching the tv series 'The X-Files' and shot Mr. Byrd.

In the alleys, the apparent death of Spawn incites Bobby and other homeless friends to march on the enemy gang (led by the Freak) and start a turf war.