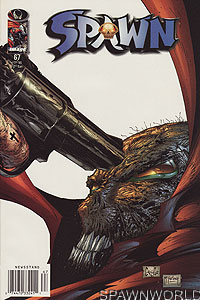 Image: Trent

- Book:
Spawn
- Issue:
67
- Date:
November 1997
- Writer(s):
- Todd McFarlane
- Artist(s):

- Greg Capullo
- Todd McFarlane
- Chance Wolf
- Tom Orzechowski
- Brian Haberlin
- Dan Kemp
- Brent Ashe
(Pencils)
(Inks)
(Inks)
(Letters)
(Color)
(Color)
(Art Design)

- Notes:
- This is the newsstand edition. It is printed on newsprint paper and has a upc "barcode" on the front cover.
First appearance of the Dead Zone

- Homeland (Dead Zone storyline part 1 of 4)

Amongst the homeless of Rat City, a conversation on religion has begun. Compelled to express his own views, Spawn gets involved - which angers a homeless man named Johnny Leekley. After the converstion is over, Spawn and Johnny get in to a confrontation which has surprising results for Spawn.