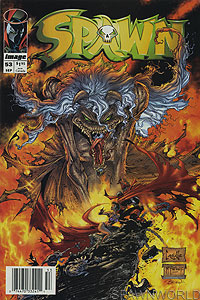 Image: Trent

- Book:
Spawn
- Issue:
53
- Date:
September 1996
- Writer(s):
- Todd McFarlane
- Artist(s):

- Greg Capullo
- Todd McFarlane
- Danny Miki
- Tom Orzechowski
- Brian Haberlin
- Dan Kemp
(Pencils)
(Inks)
(Inks)
(Letters)
(Color)
(Color)

- Notes:
- This is the newsstand edition. It is printed on newsprint paper and has a upc "barcode" on the front cover.
Spawn meets with Malebolgia

- The Reckoning

Spawn meets Malebolgia face to face for the first time since his death. Once again, he attempts to strike a bargain for his soul.