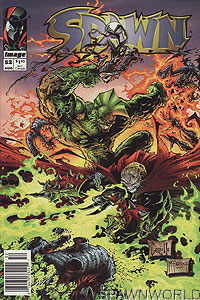 Image: Trent

- Book:
Spawn
- Issue:
52
- Date:
August 1996
- Writer(s):
- Todd McFarlane
- Artist(s):

- Greg Capullo
- Todd McFarlane
- Danny Miki
- Tom Orzechowski
- Brian Haberlin
- Dan Kemp
- Matt Milla
(Pencils)
(Inks)
(Inks)
(Letters)
(Color)
(Color)
(Color)

- Notes:
- This is the newsstand edition. It is printed on newsprint paper and has a upc "barcode" on the front cover.
This is part 1 of a 2 part crossover with Savage Dragon. Part 2 is in Savage Dragon #30.

- Messiah

Entering Hell's 5th level, Spawn find himself in a society of damned souls who follow scriptures that foresee the coming of a messiah that will one day release them from Hell.

The society greets Spawn's arrival with confusion and skepticism as he is actually the 2nd messiah-like figure to arrive that day. He is forced to battle the first to arrive, the Savage Dragon.