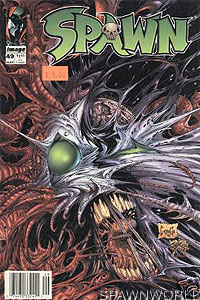 Image: Trent

- Book:
Spawn
- Issue:
49
- Date:
May 1996
- Writer(s):
- Todd McFarlane
- Artist(s):

- Greg Capullo
- Danny Miki
- Tom Orzechowski
- Brian Haberlin
- Dan Kemp
(Pencils)
(Inks)
(Letters)
(Color)
(Color)

- Notes:
- This is the newsstand edition. It is printed on newsprint paper and has a upc "barcode" on the front cover.


- Helter Skelter

Cog looks in on Spawn to find that his symbiote has mutated beyond recognition and is tearing Spawn apart. Unafraid, Cog ventures in to save Spawn.

Elsewhere, Terry blacks out again, but this time at the wheel of his car. When Wanda receives word that her husband is in the hospital she rushes off to find him.