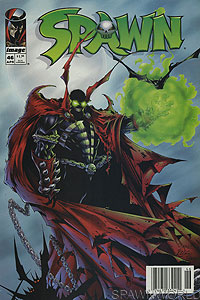 Image: Trent

- Book:
Spawn
- Issue:
46
- Date:
April 1996
- Writer(s):
- Todd McFarlane
- Artist(s):

- Tony Daniel
- Kevin Conrad
- Tom Orzechowski
- Todd Broeker
- Roy Young
(Pencils)
(Inks)
(Letters)
(Color)
(Color)

- Notes:
- This is the newsstand edition. It is printed on newsprint paper and has a upc "barcode" on the front cover.


- Revenge (Tremor returns storyline part 1 of 2)

Spawn continues to allow his costume to feed on the energy of worms and other dark creatures despite the warnings of Cog. While secluding himself in the alley, however, he receives an unwelcome visit from Tremor.