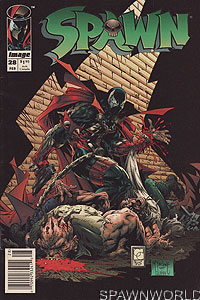 Image: Trent

- Book:
Spawn
- Issue:
28
- Date:
February 1995
- Writer(s):
- Todd McFarlane
- Artist(s):

- Todd McFarlane
- Greg Capullo
- Kevin Conrad
- Tom Orzechowski
- Steve Oliff
- Olyoptics
(Pencils, Inks)
(Pencils, Inks)
(Art Assists)
(Letters)
(Color)
(Color)

- Notes:
- This is the newsstand edition. It is printed on newsprint paper and has a upc "barcode" on the front cover.
- Wanda meets Spawn for the first time.

- Protector

Wanda decides to venture into the alleys of New York to find Spawn and learn some answers about his connection with Terry. She arrives just after Spawn has crucified Curse to a brick wall.