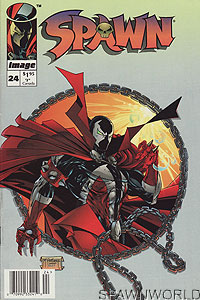 Image: Trent

- Book:
Spawn
- Issue:
24
- Date:
September 1994
- Writer(s):
- Todd McFarlane
- Artist(s):

- Todd McFarlane
- Greg Capullo
- Tom Orzechowski
- Steve Oliff
- Olyoptics
(Pencils, Inks)
(Art Assists)
(Letters)
(Color)
(Color)

- Notes:
- This is the newsstand edition. It is printed on newsprint paper and has a upc "barcode" on the front cover.


- The Hunt (part 4 of 4)

After the battle with Overtkill, Sam and Twitch survey the wreckage. Spawn appears to be dead, and Fitzgerald is uncooperative. As Sam starts to question Terry, a wave of chaos descends upon them. The CIA, the mob, the media, the cops and the homeless all converge just as Spawn wakes up.