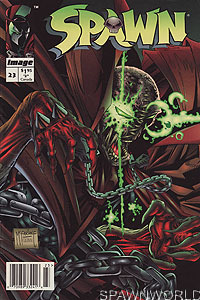 Image: Trent

- Book:
Spawn
- Issue:
23
- Date:
August 1994
- Writer(s):
- Todd McFarlane
- Artist(s):

- Todd McFarlane
- Greg Capullo
- Tom Orzechowski
- Steve Oliff
- Olyoptics
(Pencils, Inks)
(Art Assists)
(Letters)
(Color)
(Color)

- Notes:
- This is the newsstand edition. It is printed on newsprint paper and has a upc "barcode" on the front cover.
- Terry meets Spawn for the first time.
- Spawn's costume acts to protect someone else for the first time.

- The Hunt (part 3 of 4)

Terry's life unravels at an alarming pace as the murders of two FBI agents on his front lawn are blamed on him and he is attacked by Overtkill.

Sam and Twitch finally catch Spawn, but they soon find themselves involved in the battle with Overtkill.