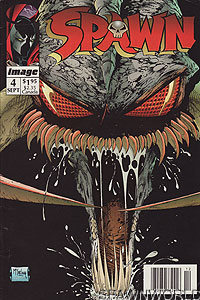 Image: Trent

- Book:
Spawn
- Issue:
4
- Date:
September 1992
- Writer(s):
- Todd McFarlane
- Artist(s):

- Todd McFarlane
- Tom Orzechowski
- Steve Oliff
- Reuben Rude
- Olyoptics
- Abel Mouton
(Cover, Interiors)
(Letters)
(Interior Color)
(Interior Color)
(Color)
(Cover Color)

- Notes:
- This is the newsstand edition. It is printed on newsprint paper and has a upc "barcode" on the front cover.


- Questions (part 4 of 4)

Spawn and Violator fight to the death, except that neither can die. Eventually their brawl is interrupted by Malebolgia who scolds them both and explains Spawn's situation.