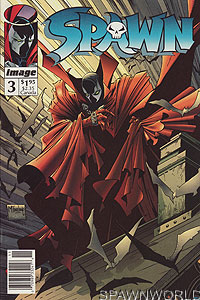 Image: Trent

- Book:
Spawn
- Issue:
3
- Date:
August 1992
- Writer(s):
- Todd McFarlane
- Artist(s):

- Todd McFarlane
- Tom Orzechowski
- Steve Oliff
- Reuben Rude
- Olyoptics
- Kiko Taganashi
(Cover, Interiors)
(Letters)
(Interior Color)
(Interior Color)
(Color)
(Cover Color)

- Notes:
- This is the newsstand edition. It is printed on newsprint paper and has a upc "barcode" on the front cover.
- 1st appearance of Terry Fitzgerald
- 1st appearance of Cyan

Questions (part 3 of 4)

Spawn does some research into the new life of his ex-wife. His heart is broken when he discovers she has remarried his best friend, and together they have the child Al never could. Just when things couldn't get any worse, Spawn has his heart literally ripped out by the Violator.