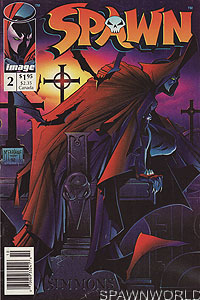 Image: Trent

- Book:
Spawn
- Issue:
2
- Date:
July 1992
- Writer(s):
- Todd McFarlane
- Artist(s):

- Todd McFarlane
- Ken Steacy
- Tom Orzechowski
- Steve Oliff
- Reuben Rude
- Olyoptics
(Cover, Pencils, Inks)
(Cover Paint)
(Letters)
(Color)
(Color)
(Color)

- Notes:
- This is the newsstand edition. It is printed on newsprint paper and has a upc "barcode" on the front cover.
- 1st appearance of Violator/Clown
- 1st appearance of Jim Downing

- Questions (part 2 of 4)

Still testing his newfound powers, Spawn attempts to make his body whole again but finds it to be difficult.

Meanwhile, after a few more kills, Violator becomes bored of his mob killing-spree and confronts Spawn.