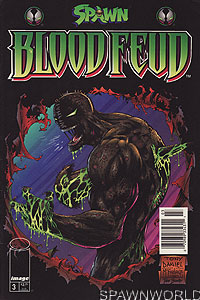 Image: Trent

- Angela
- Gottfriedsun
- Jean Sans-Coeur
- John Sansker
- K-7 Leetha
- Sam Burke
- Spawn
- Twitch
- Ursula Meyer
- Violator
- Youngblood
- Book:
Spawn: Bloodfeud
- Issue:
3
- Date:
August 1995
- Writer(s):
- Alan Moore
- Artist(s):

- Tony Daniel
- Kevin Conrad
- Tom Orzechowski
- Todd Broeker
(Pencils)
(Inks)
(Letters)
(Color)

- Notes:
- This is the newsstand edition. It is printed on newsprint paper and has a upc "barcode" on the front cover.
Issue 3 of a 4 issue mini-series.

- Bloodfeud (part 3 of 4)

After drowning his costume, Spawn returns to the alleys to recoup. Thinking that he may be a vampire, Spawn is attacked and impaled by some of the homeless population.

Meanwhile, Twitch pays dearly for discovering Sansker's secret.