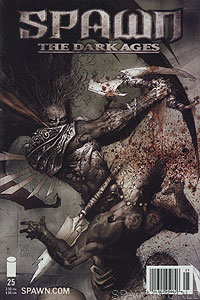 Image: Trent

- Alek
- Beast of the Wood
- Bishop Gaston Gui
- Covenant
- Gareth
- Harald
- Hellspawn
- Killian
- Necroplasm
- Peter
- Raven
- Rhyll
- Book:
Spawn: The Dark Ages
- Issue:
25
- Date:
April 2001
- Writer(s):
- Steve Niles
- Artist(s):

- Nat Jones
- Kevin Conrad
- Ashley Wood
- Todd McFarlane
- Richard Starkings
- Oscar Gongora
- Todd Broeker
- Boyd Williams
- Brent Ashe
(Pencils)
(Inks)
(Cover)
(Cover)
(Letters)
(Letters)
(Color)
(Graphic Design)
(Art Direction)

- Notes:
- This is the newsstand edition. It is printed on newsprint paper and has a upc "barcode" on the front cover.

- Plague of Man

Gareth and Raven travel to find Covenant. When they find him, Gareth is at last able to apologize for the crimes he committed, and Raven soon realizes that Covenant is not the Beast she seeks. Together, the three head for the shoreline and attept to rescue young Alek from the vikings.

Elsewhere, Killian and his small group finally arrive back at the stronghold of Bishop Gaston Gui with their stolen necroplasm in hand.