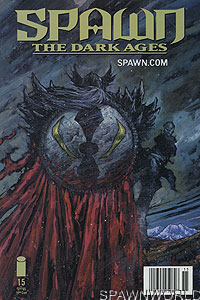 Image: Trent

- Book:
Spawn: The Dark Ages
- Issue:
15
- Date:
May 2000
- Writer(s):
- Steve Niles
- Artist(s):

- Nat Jones
- Chance Wolf
- Kevin Conrad
- Simon Davis
- Richard Starkings
- Oscar Gongora
- Mark Nicholas
(Pencils)
(Inks)
(Inks)
(Cover)
(Letters)
(Letters)
(Color)

- Notes:
- This is the newsstand edition. It is printed on newsprint paper and has a upc "barcode" on the front cover.
This issue is the first with a new creative team (Niles/Jones). Issues 15-28 are somewhat seperate from issues 1-14 in that they disregard some continuity.

- Dark Days Coming

Covenant has returned to Rhyll and resumed his role as Lord. For a brief time, he is happy and content, but soon his curse comes calling. Covenant blacks-out for a time and when he awakens, it appears he has slaughtered most of Rhyll.