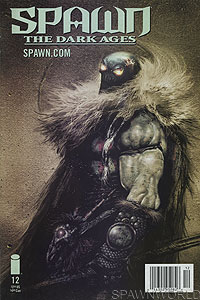 Image: Trent

- Book:
Spawn: The Dark Ages
- Issue:
12
- Date:
February 2000
- Writer(s):
- Brian Holguin
- Artist(s):

- Angel Medina
- Jonathan Glapion
- Liam McCormack-Sharp
- Richard Starkings
- Oscar Gongora
- Mark Nicholas
(Pencils)
(Inks)
(Cover)
(Letters)
(Letters)
(Color)

- Notes:
- This is the newsstand edition. It is printed on newsprint paper and has a upc "barcode" on the front cover.

- The Faithful (A Child's Crusade Part 3 of 5)

Covenant continues to doubt the sanity in creating an army of children and sending them off to war. Maeve, on the other hand, remains a pillar of strength and confidence.

Along their jouney, the children's army comes accross a sacrificial pyre created by Cog, and realize there is evil afoot. Out of nowhere they are attacked by an army of men with painted faces and wearing the skins of animals.