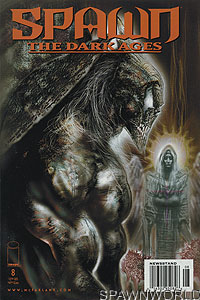 Image: Trent

- Book:
Spawn: The Dark Ages
- Issue:
8
- Date:
October 1999
- Writer(s):
- Brian Holguin
- Artist(s):

- Liam McCormack-Sharp
- Danny Miki
- Richard Starkings
- Oscar Gongora
- Brian Haberlin
- Dan Kemp
- Andy Troy
(Cover, Interiors)
(Interior Inks)
(Letters)
(Letters)
(Color)
(Color)
(Color)

- Notes:
- This is the newsstand edition. It is printed on newsprint paper and has a upc "barcode" on the front cover.

- Acts of Contrition (Immaculata arc part 3 of 3)

Told by Cog that he is being hunted by an angel, Covenant is content to let her kill him. He believes she is the will of God, to which he should not offend. Then, just as Immaculata arrives to fight him, DuBlanc arrives at the Abbey and sets it ablaze.

When Covenant discovers the residents of the Abbey are in danger, he curses Immaculata for their petty fighting and quickly rides off to rescue them. Immaculata, stung by Covenant's words and torn by her own conscience, renounces her mantel and refuses her calling as a Seraphic Huntress.