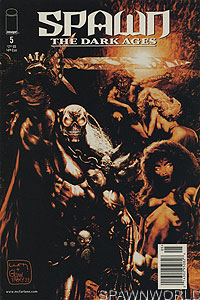 Image: Trent

- Chretien DuSang De La Croix
- Covenant
- Lord Pleny the Elder
- Lord Sutch of Cambria
- Phillipe DuSang
- Pierre
- Saladin
- Sir Henry Oldstaff of Lyonne
- Sir Perris of Amelot
- Squire Hobbs of Salisbury
- Book:
Spawn: The Dark Ages
- Issue:
5
- Date:
July 1999
- Writer(s):
- Brian Holguin
- Artist(s):

- Liam McCormack-Sharp
- Glenn Fabry
- Richard Starkings
- Oscar Gongora
- Andy Troy
- David Kemp
- Brian Haberlin
(Cover, Interiors)
(Cover)
(Letters)
(Letters)
(Color)
(Color)
(Color)

- Notes:
- This is the newsstand edition. It is printed on newsprint paper and has a upc "barcode" on the front cover.

- Crimson Shadows

A storyteller tells the tale of a compatriot of Covenant's in the crusades, Cretien DuSang De La Croix. Cretien returned home after the war a rich man, but his wealth and debauchery could not numb the guilt he felt for his past sins. As time went on, he slowly slipped into madness.