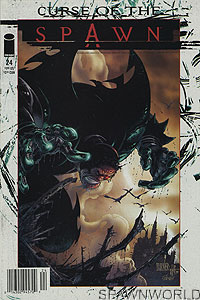 Image: Trent

- Jonathan Able Unger
- Melanie
- Overtkill
- Overt-War
- Pandemic
- Spawn
- U-L21
- Book:
Curse of the Spawn
- Issue:
24
- Date:
September 1998
- Writer(s):
- Artist(s):

- Clayton Crain
- Chance Wolf
- Todd McFarlane
- Jason Gorder
- Tom Orzechowski
- Todd Broeker
- Mark Nicholas
(Pencils)
(Inks)
(Inks)
(Inks)
(Letters)
(Color)
(Color)

- Notes:
- This is the newsstand edition. It is printed on newsprint paper and has a upc "barcode" on the front cover.

- Overt-Hell (Overtkill storyline part 2 of 2)

An imprisoned man by the name of Jonathan Able Unger is a threat to the government. He knows secrets about the shady conspiracies and shadow government that the general populace must never know. Unfortunately, he has made arrangements so that upon his death, these secrets will be revealed. As a result, the government is forced to keep him alive, forever imprisoned.

When Overtkill is reborn for the 2nd time, he goes on a rampage in NY City looking for Spawn and destroying everything in his path. To stop him, the government decides to use a man they know will have no fear - Jonathan Able Unger, also known as Pandemic.