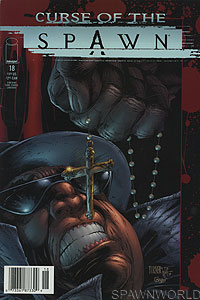 Image: Trent

- Antonio Twistelli
- Bernardo Twistelli
- Cheechi
- Curse
- Keene
- Knights Templar
- Luciano Bartino
- Neece
- Overtkill
- Roy "The Bank" Orson
- Spawn
- Vatican Secret Police
- Vincent D'Egallo
- Book:
Curse of the Spawn
- Issue:
18
- Date:
March 1998
- Writer(s):
- Artist(s):

- Dwayne Turner
- Chance Wolf
- Danny Miki
- Todd McFarlane
- Tom Orzechowski
- Todd Broeker
- Mark Nicholas
(Pencils)
(Inks)
(Inks)
(Inks)
(Letters)
(Color)
(Color)

- Notes:
- This is the newsstand edition. It is printed on newsprint paper and has a upc "barcode" on the front cover.

- Gutshot (Tony Twist storyiline part 2 of 3)

Still under attack, Twistelli visits his brother, a priest, for help. He discovers that his attackers are not seeking restitution for Overtkill, in fact they aren't mobsters at all. He is being attacked by the Vatican Secret Police who are searching for a member of the Knights Templar within Twist's organization.