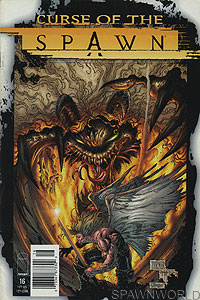 Image: Trent

- Abdiel
- Al Simmons
- Angel General Cheriour
- Badlands Saloon
- Ball of Heavenly Transit
- Borellian White Lightning
- Corn Boy
- God
- Heaven
- Hell
- Hoof
- Jason Wynn
- Jessica Priest
- Malebolgia
- Neutronium Crabs
- Neutronium Crab Eggs
- Newbie*
- Poacher
- Satan
- Smuggler
- St. Paul
- Thresher
- Unnamed Hellspawn*
- Violator*

* Shown but not named
- Book:
Curse of the Spawn
- Issue:
16
- Date:
January 1998
- Writer(s):
- Brian Haberlin
- Artist(s):

- Dwayne Turner
- Danny Miki
- Tom Orzechowski
- Todd Broeker
- Mark Nicholas
(Pencils)
(Inks)
(Letters)
(Color)
(Color)

- Notes:
- This is the newsstand edition. It is printed on newsprint paper and has a upc "barcode" on the front cover.

- Sympathy for an Angel Part 2 (Abdiel storyline part 2 of 2)

Poacher continues to tell the tale of Abdiel's mission in Hell to vanquish Malebolgia. As Abdiel bided his time in Hell awaiting orders to strike, he grew increasingly impatient and frustrated.