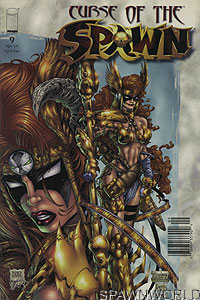 Image: Trent

- Angela
- Anna Silbermahn
- The Argus
- Ashra
- Bushwoman*
- Deurges
- Elysium
- Eternal Triumvirate
- Evelyn Weathers
- Isaac Silbermahn
- Jeremiah
- Joel Silbermahn
- Kayla
- The Kron
- Limbo
- Pentagas-Fraser
- Sarah Silbermahn

* Shown but not named
- Book:
Curse of the Spawn
- Issue:
9
- Date:
May 1997
- Writer(s):
- Artist(s):

- Dwayne Turner
- Todd McFarlane
- Danny Miki
- Greg Capullo
- Tom Orzechowski
- Todd Broeker
- Mark Nicholas
- John Gordon
(Cover and Interior Pencils)
(Cover Pencils)
(Cover and Interior Inks)
(Cover Inks)
(Letters)
(Color)
(Color)
(Color)

- Notes:
- This is the newsstand edition. It is printed on newsprint paper and has a upc "barcode" on the front cover.

- Limbo (Angela origin storyline part 1 of 3)

Angela is on a crystalline planet called Pentagas-Fraser that is being ravaged by something called the Argus. The Argus is a demonic collection of trillions of souls that has taken many forms over the millenia. Its current state is a huge throbbing cybernetic arachnid.

As Angela is sucked within the beast, she sees a familiar face watching her struggle, the being known as Deurges. He was there, watching, as each of the 5 souls that comprise Angela died. Now, as the battle turns against Angela, he watches her once again.