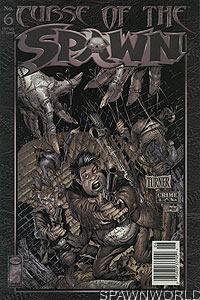 Image: Trent

- 29th Precinct
- Detective Brayde
- Detective Edland
- Detective Sparks
- Frank Autobahn
- Gretchen Culver
- John Edward Mawbley
- Newscasters*
- Odessa
- Officer Deke
- Orishas
- Sam Burke
- Solomon Weaver
- Suture
- The Cargo-Killer
- The Postman
- Twitch
- Wayne Tannanger

* Shown but not named
- Book:
Curse of the Spawn
- Issue:
6
- Date:
February 1997
- Writer(s):
- Artist(s):

- Dwayne Turner
- Danny Miki
- Tom Orzechowski
- Todd Broeker
- Mark Nicholas
- John Gordon
(Pencils)
(Inks)
(Letters)
(Color)
(Color)
(Color)

- Notes:
- This is the newsstand edition. It is printed on newsprint paper and has a upc "barcode" on the front cover.
- 1st appearance of Suture

- Blood and Rain (Suture storyline part 2 of 4)

While Sam and Twitch investigate the disappearance of Gretchen Culver for her fiancee, yet another serial killer stalks the city. This new killer has a way of tracking down other serial killers, dismembering them, then stitching them back together. Thereby earning her the nickname: Suture.