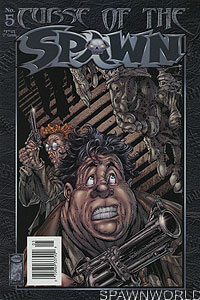 Image: Trent

- 29th Precinct
- Detective Brayde
- Detective Edland
- Detective Ray Sparks
- Donello*
- Forbes*
- Gretchen Culver
- Hillary Reece
- Jeremiah "Sharpie" Euden
- John Mawbley
- Kenny Osborne
- Officer Deke
- Officer Michelli
- Sam Burke
- Sgt. Doug Halliday
- Twitch
- Wayne

* Shown but not named
- Book:
Curse of the Spawn
- Issue:
5
- Date:
December 1996
- Writer(s):
- Artist(s):

- Dwayne Turner
- Danny Miki
- Tom Orzechowski
- Todd Broeker
- Mark Nicholas
- John Gordon
(Pencils)
(Inks)
(Letters)
(Color)
(Color)
(Color)

- Notes:
- This is the newsstand edition. It is printed on newsprint paper and has a upc "barcode" on the front cover.

- Sutures (Suture storyline part 1 of 4)

Two serial killers are at work in the city of New York. One, the Rose Killer, decapitates and dismembers his victims before inserting a rose into their bodies. The second, a methodical lunatic named John Mawbley, kills indiscriminately and removes the eyes of his victims. He then records his activities in journals. Sam and Twitch become involved in the investigation of the Rose Killer when one of their private investigation clients ends up as one of his victims.

Meanwhile, a woman named Gretchen Culver has the worst day imaginable. She narrowly escapes being shot at by John Mawbley but is then struck by a police cruiser. When being transported in an ambulance, Gretchen is drugged and raped by the police and medical officers. She fights free of teh medication and tries to escape, but is budgeoned and thought to be dead. To hide the evidence, the cops drop her off to a man they have used before to dispose of bodies - the Rose Killer.