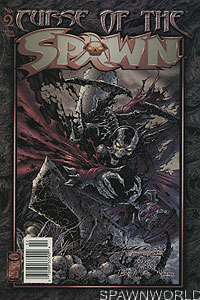 Image: Trent

- Abaddon
- Abel
- Agony Base
- Anti-Pope
- Bifrons
- Bune
- Cardinal
- Daniel Llanso
- Deimos
- Desiccator
- Madrid
- Matthew
- Nano-mites
- Nightmares
- Noon
- Nu-Vatican City
- Phlegethonyarre
- Phobos
- Reese
- Book:
Curse of the Spawn
- Issue:
2
- Date:
October 1996
- Writer(s):
- Artist(s):

- Dwayne Turner
- Danny Miki
- Tom Orzechowski
- Todd Broeker
- Roy Young
- John Gordon
(Pencils)
(Inks)
(Letters)
(Color)
(Color)
(Color)

- Notes:
- This is the newsstand edition. It is printed on newsprint paper and has a upc "barcode" on the front cover.

- Blood Lust (Daniel Llanso storyline part 2 of 4)

Confused by the hellspawn that saved them, Madrid and Matthew run away from Daniel despite having feelings of familiarity.

Daniel is later found by Abaddon - and since being a hellspawn makes Daniel a general in hell's army, Abaddon asks him for his orders.