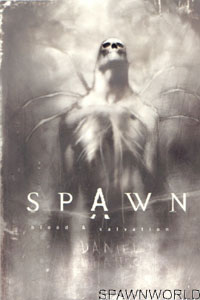 Image: Trent

- Book:
Spawn: Blood and Salvation
- Issue:
(N/A)
- Date:
1999
- Writer(s):

- Alan McElroy

- Artist(s):

- Ashley Wood
- Richard Starkings
- Oscar Gongora
(Cover, Interiors)
(Letters)
(Letters)

- Notes:
- This is a stand-alone story in trade paperback format.
- The events in this story take place after Curse of the Spawn 4.

- Blood and Salvation

After the fall of Abaddon there is a brief calm upon humanity. The survivors of Newhope plan an assault on Nuvatican City and the Anti-Pope himself, while the Anti-Pope summons ancient beasts to crush mankind.

Meanwhile, Spawn brings salvation to a man-demon named Abel, and joins him in seeking revenge against Hell.