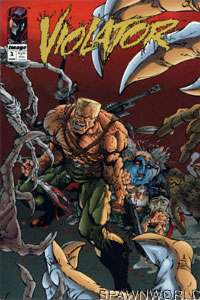 Image: Trent

- Admonisher
- Alberto
- Badrock
- Dr. John Dee
- E
- Hemisphere of Nacreous Containment
- Jimmy Hoffa
- Malebolgia
- Mr. Hughes
- Phlebiac Brothers
- Phleboton Spirit of the
Upper Ayres
- Shaft
- Spawn
- Tommy
- Tony Twist
- Vacilator
- Vandalizer*
- Vaporizer
- Vindicator
- Violator

* Shown but not named
- Book:
Violator
- Issue:
2
- Date:
June 1994
- Writer(s):
- Alan Moore
- Artist(s):

- Bart Sears
- Mark Pennington
- Tom Orzechowski
- Steve Oliff
- Olyoptics
(Pencils)
(Inks)
(Letters)
(Color)
(Color)

- Notes:
Issue 2 of a 3 issue mini-series.

- The World (part 2 of 3)

As the Admonisher is trying to kill Violator, the other Phlebiac Brothers intervene and try to kill him themselves. In the turmoil, Violator has a heart-to-heart imaginary conversation with the dead head lodged on his arm, after which he decides to ask Spawn for help.