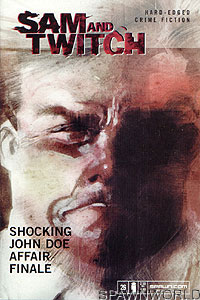 Image: Trent

- Commander Monica Straight
- Dave Hunt
- Helen Williams
- Jim Unger
- Kirk McGuire
- Sam Burke
- Tracy Cane
- Twitch
- Book:
Sam and Twitch
- Issue:
26
- Date:
February 2004
- Writer(s):
- Todd McFarlane
- Artist(s):

- Paul Lee
- Ashley Wood
- Jimmy Betancourt
- Jay Fotos
- Ben Timmreck
- Michael Seghers
(Interiors)
(Cover)
(Letters)
(Color)
(Art Direction)
(Graphic Design)

- Notes:
This is the final issue of the first Sam and Twitch series. There is, however, a second series called Casefiles: Sam and Twitch.

- The John Doe Affair Part 7

The case comes to a head as all parties converge on the killer. Sam and Twitch find out who the killer's accomplice is, and then confront John Doe once and for all.