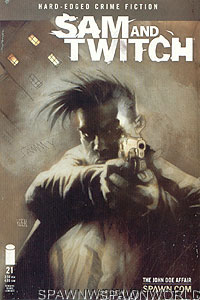 Image: Trent

- Brad Cusack
- Captain Monica Straight
- Jimmy Murphy
- KC McRory
- Kirk McGuire
- Lawrence Donalson
- Malone
- Mark Filson
- Margaret Williams
- Sam Burke
- Tracy
- Twitch
- Book:
Sam and Twitch
- Issue:
21
- Date:
April 2001
- Writer(s):
- Todd McFarlane
- Artist(s):

- Alex Maleev
- Jay Fotos
- Ashley Wood
- Richard Starkings
- Oscar Gongora
- Boyd Williams
- Brent Ashe
(Interiors)
(Color)
(Cover)
(Letters)
(Letters)
(Graphic Design)
(Art Direction)

- Notes:
(N/A)

- The John Doe Affair Part 2

The second tape is analyzed and it seems the killer has intentionally left some clues behind. Meanwhile, word of the case has mysteriously spread to not only Sam and Twitch's captain, but also her bosses downtown as well as the Feds.

Since Twitch has been unavailable as of late, Sam confides in a bartender about his troubles. She takes a liking to Sam and asks him out on a date, and also convinces Sam to contact Twitch's wife.