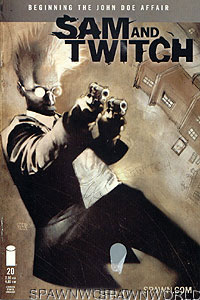 Image: Trent

- Fred (2)
- Fred (3)
- Jimmy Murphy
- John Doe*
- KC McRory
- Mr. X*
- Mrs. X*
- Roberto
- Sam Burke
- Tracy
- Twitch
- Udaku

* Shown but not named
- Book:
Sam and Twitch
- Issue:
20
- Date:
March 2001
- Writer(s):
- Todd McFarlane
- Artist(s):

- Alex Maleev
- Jay Fotos
- Ashley Wood
- Richard Starkings
- Oscar Gongora
- Boyd Williams
- Brent Ashe
(Interiors)
(Color)
(Cover)
(Letters)
(Letters)
(Graphic Design)
(Art Direction)

- Notes:
(N/A)

- The John Doe Affair Part 1

Twitch is having some difficulties coping with all the recent events in his life, including the death of his girlfriend KC McRory. He has decided to remain on the force though, much to Sam's approval.

Their next case falls into their lap when Sam receives a video tape in the mail that shows a gruesome rape and murder. As they are having it analyzed, Sam receives another tape...in his home refrigerator.