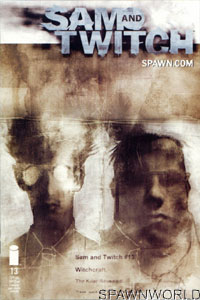 Image: Trent

- AJ Ritter
- KC McRory
- Malleus Maleficarum
- Monica Straight
- Nadja
- Rebecca Nurse
- Rev. Nicholas Noyes
- Sam Burke
- Sarah Goode
- Sarah Wilds
- Twitch
- Book:
Sam and Twitch
- Issue:
13
- Date:
August 2000
- Writer(s):
- Brian Michael Bendis
- Artist(s):

- Alberto Ponticelli
- Jonathan Glapion
- Ashley Wood
- Richard Starkings
- Oscar Gongora
- Todd Broeker
- Jay Fotos
- Drew Hutchison
(Pencils)
(Inks)
(Cover)
(Letters)
(Letters)
(Color)
(Color)
(Color)

- Notes:
(N/A)

- Witchcraft Part 4 (of 4)

After bringing in the suspect, Sam and Twitch argue as to whether the guy is crazy or not. He keeps rambling on about the Salem witch trials and a curse. But it isn't long before his fantasies start to manifest.