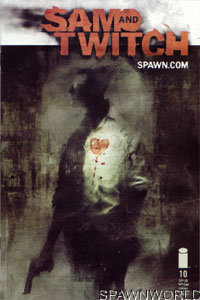 Image: Trent

- Clementine's Used Books
- Jacqueline / Jackie
- Jennifer
- KC McRory
- Melissa from Boca Raton
- Nadja*
- Samuel Burke
- Sangiacomo Family
- Sheryl
- "There and Back"
- Twitch Williams
- Udaku

* Shown but not named
- Book:
Sam and Twitch
- Issue:
10
- Date:
May 2000
- Writer(s):
- Brian Michael Bendis
- Artist(s):

- Alberto Ponticelli
- Jonathan Glapion
- Ashley Wood
- Richard Starkings
- Oscar Gongora
- Todd Broeker
- Jay Fotos
- Drew Hutchison
(Pencils)
(Inks)
(Cover)
(Letters)
(Letters)
(Color)
(Color)
(Color)

- Notes:
(N/A)

- Witchcraft Part 1 (of 4)

A coven of Wiccans celebrating the equinox are murdered and decapitated in central park. Sam and Twitch are, of course, on the case. They begin by interviewing the lover of one of the deceased, who happens to be another witch herself.

Also, Sam gets some media attention for a book he helped write about the Udaku case, plus Twitch and KC have become a couple.