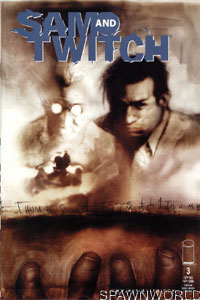 Image: Trent

- Barbara Rodriguez
- Fedora*
- KC McRory
- Matt Afflek
- Nicky Sangiacomo
- Sam Burke
- Shift Captain*
- Shift Lt. Barnes
- Twitch Williams
- Udaku

* Shown but not named
- Book:
Sam and Twitch
- Issue:
3
- Date:
October 1999
- Writer(s):
- Brian Michael Bendis
- Artist(s):

- Angel Medina
- Jonathan Glapion
- Ashley Wood
- Richard Starkings
- Oscar Gongora
- Todd Broeker
- Jay Fotos
- Drew Hutchison
(Pencils)
(Inks)
(Cover)
(Letters)
(Letters)
(Color)
(Color)
(Color)

- Notes:
(N/A)

- Udaku Part 3

Sam is interrogated by Internal Affairs and is led to believe Twitch betrayed him. When he confronts Twitch about it, he learns the truth - that Twitch was lonely and needed someone to talk to since his wife left him months ago.

Meanwhile, another dead Sangiacomo arrives in the morgue, this one killed by an artificially mutated flu virus. As the detectives and the coroner try to connect the pieces, fellow cop Afflek violently dies in their arms from the same virus. His dying word is Udaku.