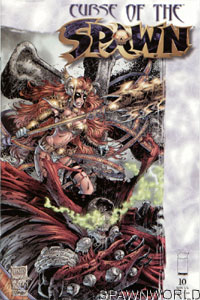 Image: Trent

- Angela
- The Argus
- Bobby
- Bootsy
- Cogliostro
- Deurges
- Elysium
- Eternal Triumvirate
- God
- Katherine
- The Kron
- Malebolgia
- Pentagas-Fraser
- Rat City
- Spawn
- Book:
Curse of the Spawn
- Issue:
10
- Date:
June 1997
- Writer(s):
- Artist(s):

- Dwayne Turner
- Danny Miki
- Tom Orzechowski
- Todd Broeker
- Mark Nicholas
- John Gordon
(Pencils)
(Inks)
(Letters)
(Color)
(Color)
(Color)

- Notes:
(N/A)

- A Fall of Doves (Angela origin storyline part 2 of 3)

While figting the Argus, Angela is terrified to find out that it has activated the Kron. A powerful device of unknown origin that begins spewing forth anti-life and anti-force. In a moment of desperation, Angela teleports herself to safety. During the journey, she recalls her introduction to Elysium and God when first she became an angel. When she snaps back to reality, she finds herself in Rat City and gets reacquainted with Spawn.

Meanwhile, the being known as Deurges has followed Angela to the alleyways and confronts a man from his past, Cogliostro.