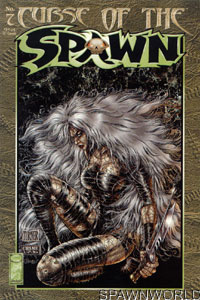 Image: Trent

- 29th Precinct
- Chango
- Detective Brayde
- Detective Edland
- Detective Sparks
- Donello
- Evan Kaine
- Forbes
- Gretchen Culver
- Jeremiah "Sharpie" Euden
- Karla Ross
- Officer Deke
- Officer Kenny Osborne
- Officer Michelli
- Ogun
- Orishas
- Sam Burke
- Sgt. Doug Halliday
- Suture
- Twitch
- Wayne Tannanger
- Book:
Curse of the Spawn
- Issue:
7
- Date:
March 1997
- Writer(s):
- Artist(s):

- Dwayne Turner
- Danny Miki
- Tom Orzechowski
- Todd Broeker
- Mark Nicholas
- John Gordon
(Pencils)
(Inks)
(Letters)
(Color)
(Color)
(Color)

- Notes:
(N/A)

- Tombs (Suture storyline part 3 of 4)

Sam and Twitch meet resistance from internal affairs while trying to investigate the disappearance of Gretchen Culver. Nevertheless, the dirty cops responsible for her disappearance begin to feel the pressure and discuss how to deal with the detectived.

Meanwhile, Suture continues her rampage and takes revenge on Sharpie Euden and the paramedics involved with her rape.