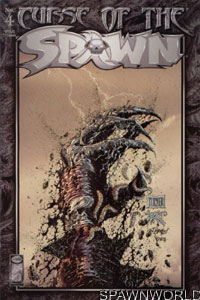 Image: Trent

- Abaddon
- Abel
- Bune
- Daemons
- Daniel Llanso
- Flechette
- Madrid
- Matthew
- Mortemeure
- Nano-Techmites
- Navkies
- Necroplasm
- Nightmares
- Phlegethonyarre
- Siv
- Book:
Curse of the Spawn
- Issue:
4
- Date:
December 1996
- Writer(s):
- Artist(s):

- Dwayne Turner
- Danny Miki
- Tom Orzechowski
- Todd Broeker
- Roy Young
- John Gordon
(Pencils)
(Inks)
(Letters)
(Color)
(Color)
(Color)

- Notes:
The story of Daniel Llanso is continued from where this issue ends in the one-shot Blood and Salvation.

- Damnation War (Daniel Llanso storyline part 4 of 4)

As the army of Navkies arrives at the human stronghold, Abel kidnaps Matthew and takes him Abaddon to a be re-babtized. Spawn slaughters the Navky army to reach Madrid and Matthew, then heads off to confront Abaddon and recue his nephew.