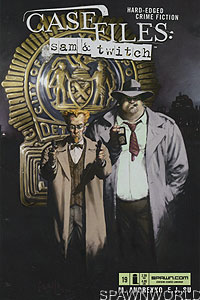 Image: Trent

- Book:
Case Files: Sam and Twitch
- Issue:
19
- Date:
September 2005
- Writer(s):
- Artist(s):

- E.J. Su
- Greg Capullo
- Jay Fotos
- Jimmy Betancourt
- Jason Gonzalez
- Ben Timmreck

(Interiors)
(Cover)
(Color)
(Letters)
(Art direction)
(Graphic design)

- Notes:
(N/A)

- Ancient Chinese Secret, Huh? Part 6

Sam and Twitch discover the corpse of Chu Lai in the basement with them. Confused, thay try to escape with Lo's sisters but are attacked by another Chu Lai. This 2nd Chu Lai is sfinally shot by one of Lo's sisters.

After the medical examinations the detectives learn that Chu Lai's illigitimate son tracked her down in America and murdered her. He then assumed her identity and concocted the vampire gang to aid in the drug smuggling business. The legend is perpetuated, however, as his body is stolen from the morgue.