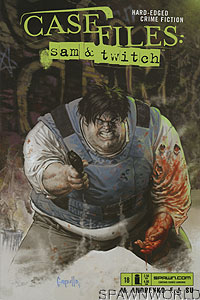 Image: Trent

- Book:
Case Files: Sam and Twitch
- Issue:
18
- Date:
July 2005
- Writer(s):
- Artist(s):

- E.J. Su
- Greg Capullo
- Jay Fotos
- Jimmy Betancourt
- Jason Gonzalez
- Ben Timmreck

(Interiors)
(Cover)
(Color)
(Letters)
(Art direction)
(Graphic design)

- Notes:
(N/A)

- Ancient Chinese Secret, Huh? Part 5

Detective Lo betrays Sam and Twitch and they end up being held captive by Chu Lai in a basement with Lo's sisters. Lo on the other hand, is eliminated by Chu Lai. The detectives then fend off an attack by Lai's assistant Zhou and discover another basement captive...